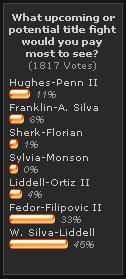 No Love for Tim Sylvia
I was poking around Sherdog today in abject boredom and noticed a poll up, don't know how long it's been there but I figured what the heck, I'd vote on it. The topic was most anticipated upcoming title fight, and of course with Mirko CroCop fresh off his OWGP win and Wanderlei Silva looking less like a machine now that he had his head kicked in, the two top matches were Mirko-Fedor and Chuck-Wandy.
The interesting thing to note here is that out of 1800+ votes, NOT ONE PERSON voted for Tim Sylvia-Jim Monson. Not even their moms or anything!
Tim Sylvia was already pissed because his main event status at UFC61 was robbed by Shamrock-Ortiz 2 (which by the way is the only fight that may edge out the aforementioned Sylvia-Arlovski 3 as the worst fight of the year so far). I can't imagine how happy he'll be when the UFC realizes his epic battle with legitimate heavyweight contender Josh Monson isn't setting people's imaginations ablaze and decides to co-headline him with something more exciting ... like sea turtles giving birth.
And yes, I know that Jeb Monson's name is Jake ... or something. I can't really remember. That's kinda the joke. Or is that burnt toast I smell? Hmmm.