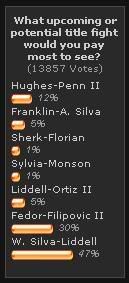 Still no love for Tim Sylvia
As mentioned a few days ago
, a new poll on Sherdog.com had been showing that the excitement meter for Tim Sylvia's next bout is simply off the charts - a nice fat zero percent of almost 2000 votes.
Well, you'll be happy to know that 12,000 votes later, the Tim Sylvia - Jimbo Monson fight has finally hit 1% ... or has it? Taking a closer look at this poll, the crack mathematics staff at fightlinker have noticed an odd discrepancy. If you add up all of the results, it equals 101%! This means Sherdog's poll software is rounding up from zero, which in turn means that the UFC65 Heavyweight title match probably hasn't even gotten close to 1% of the votes.
We'll keep you informed if this unrivaled explosion of excitement and anticipation breaks 2%. I wouldn't hold your breath though.